High Reach Demolition Boom | Demolition Front Operation Instruction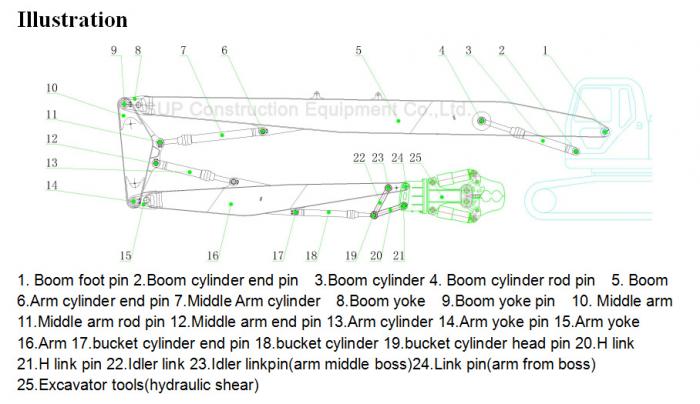 High Reach Demolition Boom | Demolition Front Operation Instruction
Installation instructions
1. All the bosses and pin holes should be greased before installation
2. User should install one or two sets spare valves and Foot valve which inside the cabin by themselves.
Installation sequence: install the counterweight first, then mount the boom to the excavator bracket, install two boom clinders link
to the boom, next install middle arm, arm, and then install middle arm cylinder,arm
cylinder,bucket cylinder and hoses one by one. Finally, fit on the idler link, H link and breaker(or hydraulci shear).
Demolition, adopted material is Q345B, mainly apply to demolish high-rises. There are stop valves, one-way throttle valves etc.
installed on boom, ensure safety and protection for high building working.
Grease the pins of boom,middle arm and arm once after every four-hour continue working. Fill lubrication oil before working everyday.
Tighten it once find oil tube dripping. Check those important parts regularly to see if anything abnormal, including if there is a
crack on the important welded joints, if there is a crack on the bracket dovetail area of cylinders, if there is a oil leakage in
joints of steelpipes and hoses.
1. Sizes of breaker of hydraulic shear should be within the scope stipulated by our company
2. Working with bucket cylinder max. stroke is prohibited, otherwise will cause pin of bucket cylinder rod broken. Correct operation
is try your best to operate demoliton with bucket cylinder rod in the middle of stroke, moving the arm and boom to do the cutting.
3. Please obey the Relevant Regulations of Excavator Operation.
SUP Construction Equipment Co.Ltd. reserves the final explanation rights of this instruction